Posted by The 2Sand.com Team on 06 26 2019
In past posts, we have discussed why you might choose from among different grades of grit, various abrasive materials, backers and more. This time around, we're all about the quality of the abrasive and how it affects your final product.
Because sandpaper is composed of an abrasive material, no matter what you do, the process of sanding will always leave scratches on your project. Using a coarser or finer grit will leave larger or smaller scratches and some techniques can help reduce the appearance of the scratches as well; however, the quality of the abrasive you are using often has a greater affect on the finish of your project than you might think.
Think about sand that you find on the beach or in a child's sandbox. The individual grains appear uniform to the naked eye, but if you were to place them under a microscope, they would vary widely in size. When a manufacturer creates sandpaper, the quality of the product is a direct result of how carefully the company screens the abrasive material used in manufacture. If the company is selective, the material used will look very similar in shape and size under our microscope.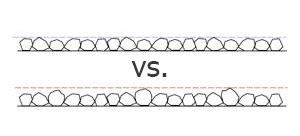 When high quality sandpaper with uniform abrasive particles is applied, especially in product with higher grit ratings, the scratches in the surface are also uniform and have a smooth visual appearance. Conversely, a sanding product with grit material that has just a few pieces that are a different shape or size will leave scratches that stand out visually, producing a lower-quality finish.
Of course, the process of careful abrasive material selection can drive the price of quality sandpaper up from lesser-quality products, costing you more at the checkout. But keep in mind that a better product reduces sanding time and vastly improves your finished product, saving you money (and headaches) in the long run! The Team at 2Sand.com works hard to make sure that we bring you quality products at the best prices possible, so you don't have to spend your time figuring out which products are the best – we've don't the work for you!

If you have questions about sanding products or need something that you can't find, drop us a line or give us a call at 1-800-516-7621. We're here to help!
Happy sanding!