Posted by The Team at 2Sand.com on 12 06 2019
As we have previously discussed in this blog, the ultimate purpose of finish sanding is to achieve a very consistent pattern of scratches. At any grit level, deeper scratches in the pattern will ruin the finish. One way to prevent these defects is to effectively remove dust and grit particles during the sanding process, and nothing does that better than a good downdraft sanding table. While there are many good commercial sanding table systems on the market, a shop-built unit can be customized for the size you need and the work you do.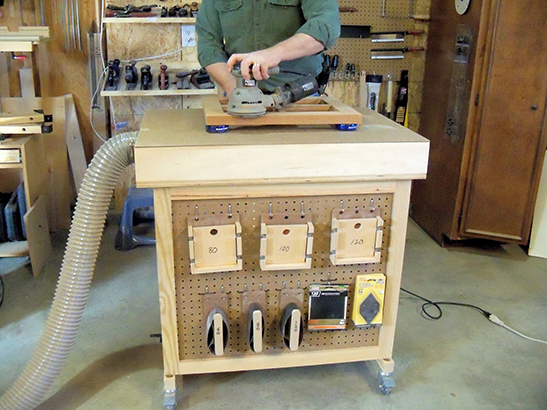 Our own Sanding Station started through a discussion of how to properly store sanding supplies. This evolved into a supply cabinet, and since no shop ever has too much floor space, the addition of a downdraft top was a natural step for capping the cabinet. And best of all, you can download the plans as our gift to you.
Many downdraft sanding tables use some form of built-in blower and filters to collect the dust, but this adds a lot of expense and all of the storage space below the top is lost. Our design features a torsion box that allows dust to flow through it right into your existing dust collector through a standard 4" port. The torsion box is a framework of half-lapped ribs capped by 'skins' on each face like an airplane wing, making it lightweight and very ridged.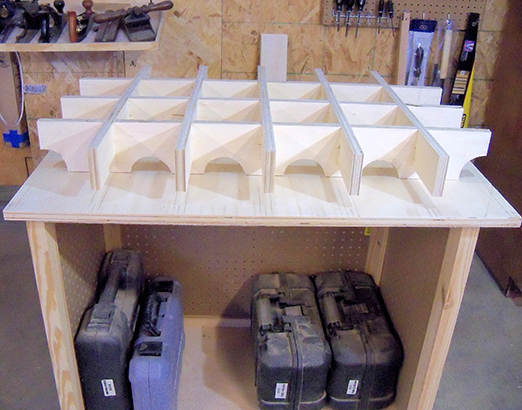 This torsion box can be made to whatever dimensions needed for your work. The only real challenge is figuring the spacing. We have found that 5-6" on center between ribs is the best compromise between weight and strength. To allow waste to flow cleanly through the box, the shorter ribs are cut narrower than the box, and the longer ribs have passages cut in along the bottom.
The top of the table is made from common pegboard. The holes allow for easy airflow and the material is smooth and soft enough to minimize potential damage to parts. Overall, this system has proven to be very effective at keeping unwanted particles away from the work and making a cleaner, safer and more pleasant work area. As a bonus, the vacuum on the surface actually helps hold larger parts from moving while being sanded!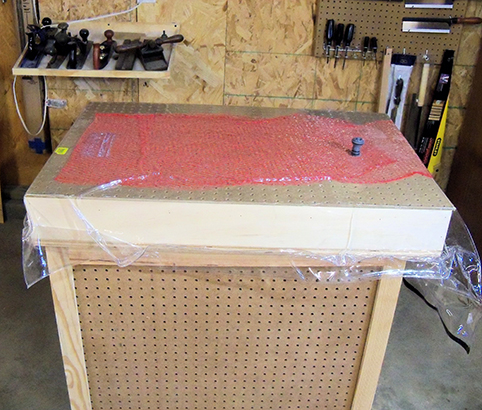 In the next blog, we will look at building the stand for the torsion box as a storage cabinet, but you can get started building the downdraft torsion box right away with our free plans.